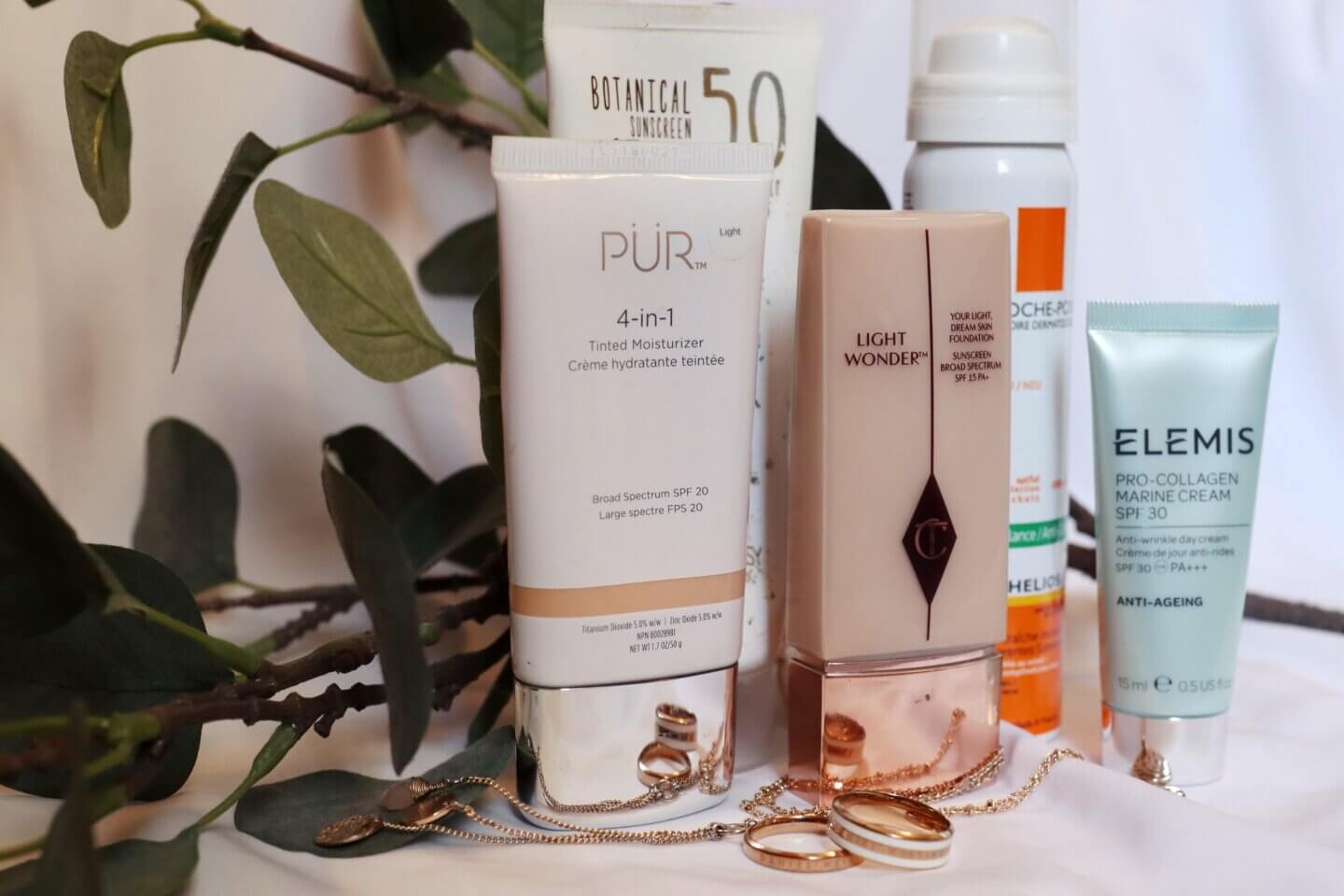 The best sunscreen for under make up? What's the best sunscreen moisturizer for acne? And What is the best SPF sunscreen for oily skin? Well, there are so many ways you can apply SPF these days. And many different SPF products on the market, so I can imagine you might think where do I start. In a very literal way to be honest. Do you put your SPF underneath your make up, in your make up products, or on top of your makeup. Every way has its own pros and cons, hence why I'm writing this blog post. Hopefully, after reading this post you know exactly how you want to apply your SPF!
Why is SPF so important?
First let me explain again why it is so incredibly important to apply SPF on your face, every single day. Yes even during the winter, because even during Winter there is UV radiation out there. UV radiation is something that's harmful to the skin. UVA and UVB radiation can harm your skin, hence why you should always apply an SPF and preferably a brad spectrum sunscreen. UV radiation can cause sunburn, aging of the skin, hyperpigmentation, and many more things. And in my opinion, the most important one skin cancer, caused by too much sun damage or UV radiation. This applies to all skin tones and skin types, even if you have eTherefore it's so important to apply sun protection every day!
Which SPF should I use?
I thought it would be a good idea to write a post about the different types of SPF products. As I already mentioned in the intro this can be done in different ways. Underneath your makeup, mixed in with your makeup products, or on top of your makeup. Choose the way you want to apply your SPF and the method your skin likes best!
Best sunscreen for under make up
Separate SPF for your face
What's the best sunscreen for under make up? The first and easiest way is just to apply SPF as the last step in your skin care routine. This SPF is a separate one for your face like for example the Hannah Huidcoach Juvi Protect. Or the Thank You Farmer Water Sun Cream I wrote about in my Exciting New Discoveries post! Make sure that you don't put sunscreen for your body on your face if you have sensitive skin or acne-prone skin!
The body sunscreens are usually more greasy and not specifically made for the skin on your face. A separate face SPF means buying a different product and adding another layer of product to your face. If you have sensitive skin you can buy a product that is specifically for sensitive skin, which is a pro. But you also have to buy an extra product, which is a con.
SPF in your day cream
Another way of applying your SPF is to make sure it is in your day cream. An example is the Elemis spf 30, which is a different version of the Elemis pro-collagen marine cream. There are day creams with and without SPF. So if you want to buy a specific day cream containing SPF make sure to read the packaging. A huge advantage is that you don't have to buy a separate SPF. Besides that you know that your favorite day cream has all the ingredients that benefit your skin, for example hyaluronic acid, and also broad spectrum sunscreen. And maybe your favorite day cream already has a moisturizer SPF version.
A downside could be, that you have to buy a separate day cream. Although I would advise you anyway to purchase a separate day and night cream. Day and Night Creams have different benefits to your skin. Especially if you have more mature skin two different creams can really benefit your skin. So these two products are the best sunscreen for under make up in my opinion!
Sunscreen in your make up
Tinted SPF
Now onto sunscreen inside your makeup, with first up a tinted SPF. Not to confuse this with a tinted moisturizer. A tinted SPF is a sunscreen for your face with a tint in the cream. You can see in the picture on the right that the consistency is the most firm. (Swatches: Charlotte Tilbury Foundation, Pur Tinted Moisturizer, Australian Gold Tinted sunscreen). I absolutely love this Australian Gold SPF 50, because it is absolutely not greasy at all and gives almost a blurring 'matte finish'. I wrote two blog posts about this Australian Gold tinted SPF. The Australian Gold tinted sunscreen is part of their Botanical Sunscreen range.
One about the first edition and the year after they launched different shades of their Australian Gold SPF 50. The good thing about a tinted SPF is that you don't have to apply two separate products. This actually applies to all 3 products in this section. During the summer I used to wear this Tinted SPF as a base layer on its own. The Australian Gold sunscreen for your face has a really beautiful blurring effect!
Tinted Moisturizer
What is a tinted moisturizer? A different base layer that already has SPF in it, is a tinted moisturizer with SPF. I love the Pur cosmetics 4 in 1 tinted moisturizer. Pur also has more make-up products as I mentioned in my blog post about the Pur Cosmetics Powder and Mascara. Tinted moisturizers with SPF usually have a lower factor of SPF. I try to usually have SPF 50 as protection on my face. Yes, every single day! And it's a myth that SPF 50 prevents you from getting a tan. When I wear factor 50 on my face, I still get a tan!
The beautiful thing about a tinted moisturizer with SPF is that it gives more coverage compared to tinted SPF. While still being a light base layer. Although I have to say this Pur tinted moisturizer has high coverage, compared to other tinted moisturizers I've tried. So if you have sensitive skin, this could be something you might want to try due to the higher coverage! I also wore this base layer by itself during the summer!
Foundation with SPF
And finally in the SPF in your make up category is the foundation with SPF. Some brands put SPF in their foundations like the Charlotte Tilbury Light Wonder Foundation. This is a beautiful lightweight formula with light coverage that contains SPF 15. As I already mentioned the base products with SPF tend to have a lower factor, so be aware of that. An advantage of a foundation with SPF is that you don't have to put an extra layer of product on. And if your skin tends to react to a lot of layers, this might be something you want to try!
Sunscreen over your make up
The last option, which is a fairly new one, is SPF on top of your makeup. If you have very sensitive skin, this might be a winner for you. This is the La Roche Posay Anthelios Mist, which was one of the first brands to launch an SPF mist. La Roche Posay is known for its mineral sunscreen, but now expanded their La Roche Posay Anthelios line with an SPF mist. Nowadays there are many brands that have an SPF mist in their collections. The beautiful thing about this product is that it's the last step in your routine. And even better you can top it up during the day without having to remove your makeup! I think that's a huge advantage over the other ways.
But you could always mix and match and use this one in your handbag for top-ups on the go. The aerosol has a really fine mist, hence I said it might be the best sunscreen for sensitive skin. This mist doesn't really add another layer on top of your skin. And the product doesn't really come into contact with your face, due to the skincare and/or makeup products underneath. This is why I think this could definitely be the best sunscreen for sensitive skin or acne-prone skin!
I hope you loved reading about all the different ways you can apply SPF. And about the products I think are the best sunscreen for under make up. To add to my story SPF could create a flashback when you take a photo using a flash. If you know you are going to be photographed, make sure to test the SPF beforehand or don't wear SPF. For example during a wedding or an event. I would recommend the first option, but I can also imagine that if your wedding day foundation creates a flashback, you might want to play it safe and don't wear SPF at all. And always make sure to check if the spectrum SPF to see if it is a sunscreen broad spectrum SPF!