If you've been following my blog for a while you know that I love the Australian gold products. This will be the third year I write a post about their new products. If you would like to read about the products I previously wrote about, there are blog post about the Australian Gold Botanical range and the Australian Gold tinted face SPF. But first, let's talk about some awesome exciting new Australian Gold products.
Australian Gold Products
Australian Gold products have been on the market for over 25 years. The have expended their product range from tanning products, to sunscreen, and also after sun products. They have products for almost every skin type, so you don't have to worry about getting burned on the beach. Also did you know that during your skiing trip you also need to pack a tube of sunscreen?!
Hemp Nation tan extender
We have seen the launch of the Hemp Nation Lotion last year in a variety of different scents. This year Australian Gold added a new scent to the Hemp Nation Lotion range, called Sparkling Citrus and Champagne. And it smells exactly how it sounds, absolutely divine! This lotion helps your tan to last longer and to keep your skin nice and moisturized. They've not only added a new Hemp Nation Tan extender scent to the list but also launched a new product: Sparking Citrus & Champagne Shower Gel!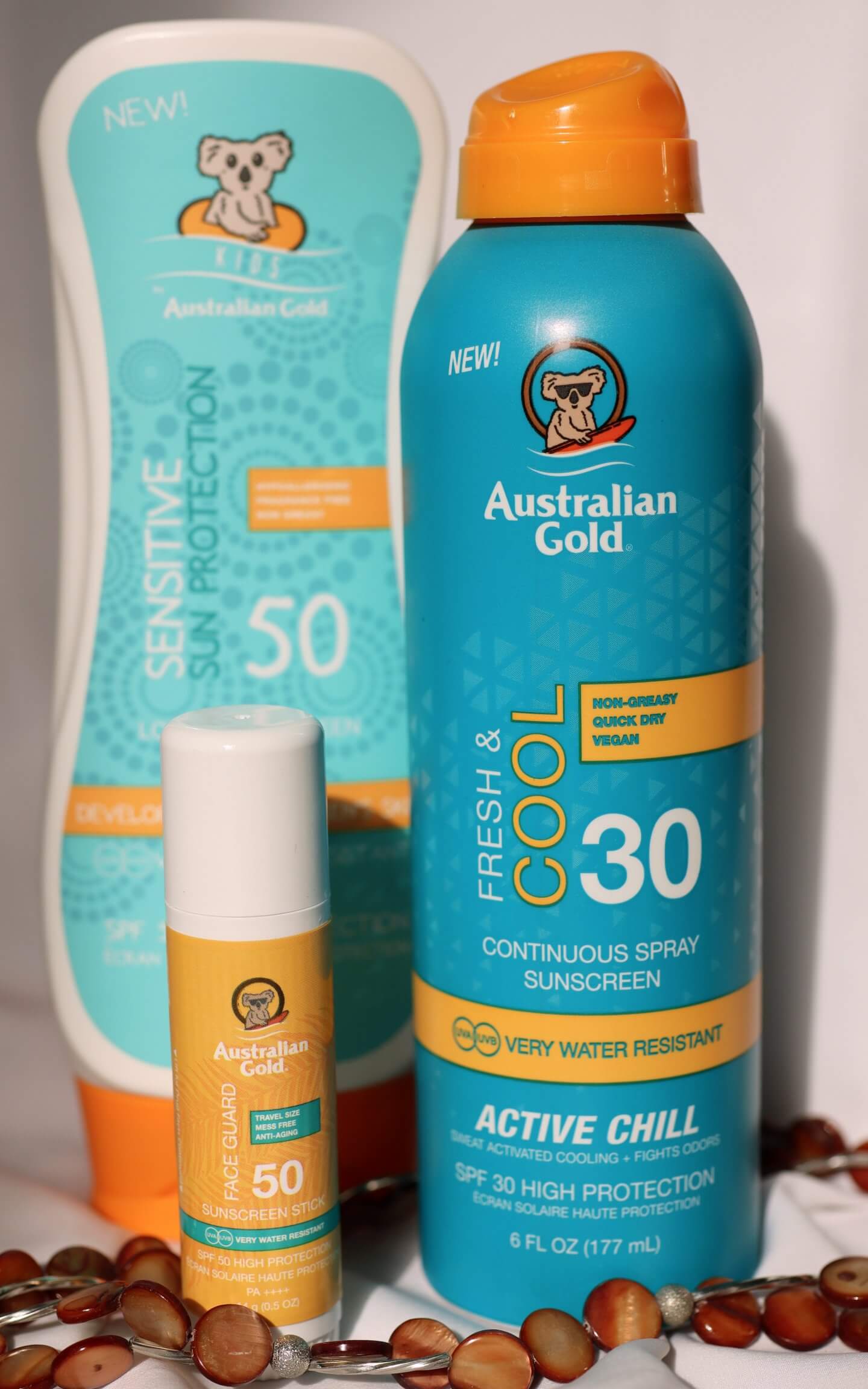 New sunscreen products
This year they released a new type of sunscreen called the Australian Gold Fresh & Cool spray with SPF 30. I absolutely love a spray bottle type of sunscreen, because it saves you the hassle of hands covered in sunscreen. This particular type of Australian Gold Fresh & Cool – as the name suggests – is resistant, which is amazing if you are going to do an outdoor workout during the summer or just go for a swim.
Australian gold also launched a new Sensitive Sunscreen with SPF 50. This sunscreen is specifically made for kids, which in my opinion is a plus. I don't know if this is evidence-based, but I always feel like when using kids' sunscreen it protects you a bit better. Usually, they have a higher SPF in the sunscreen, but I don't know maybe it's just a myth. At least you are using a higher SPF, which is always a good idea!
Next up is the Australian Gold Face Guard, which is also a new product in the range. It's a very nice and small stick you can just pop in your handbag. This stick is made for your face to use in places that you are more likely to burn. For example your nose and the tips of your ears. You might have seen surfers using this on their noses and underneath their eyes. You can also use this on tattoos for example although there's also the Australian Gold Tattoo stick.
Australian gold Tanning SPF
Last but certainly not least we have two sunscreen products that also enhance tanning or self-tan. First up is the SPF 30 Spray Gel Sunscreen with Instant Bronzer. This product not only protects you from getting sunburned but also makes you look bronzed right from the start. I think this is a major plus since we all want that healthy tan right! And for more face self tanning products, check out the best self tanner for acne prone skin blog post.
The second product is the Face + Self Tanner SPF 50. This product is a face and tanning product in one, made to use on your face. I think it's really good that they made a separate product for your face because your face needs a higher SPF to properly protect it as well as it needs to be less greasy. This product is also water-resistant, which makes it perfect for an outdoor sunny workout or a swim.
I hope you loved reading about the new Australian Gold Products for this year! Let me know in the comments down below if you've tried any of their products!