*This post is sponsored by Flow Cosmetics
As you can see on the blog I'm currently trying out lots of different brands and review them for you. Today I'm writing a review about Flow Cosmetics. I recently tried out three skin care products from Flow Cosmetics and they make the most perfect minimal skincare routine. So if you are curious to hear more about these products and how I use them, keep reading!
Flow Cosmetics
Flow cosmetics is a skin care brand originally from Finland, but is now sold in more European countries. This Scandinavian skin care brand is very passionate about creating natural, non-toxic skin care, which I think is amazing. And let's take a moment to talk about their packaging.. Isn't it stunning?! This Finnish skin care is infused with beautiful, local ingredients including organic plant oils and vitamin-rich berries. Did I say local? Yes indeed, a lot of their ingredients are from their own soil, which makes this brand very unique. Besides that, all of their products are vegan and cruelty free. And that's not all of it, their packaging is also recyclable.
Cleansing Balm Bar
As I already mentioned, the products I've tried from Flow Cosmetics make a perfect base for a very minimalistic skin care routine. The first product is their Honey Milk facial soap bar, which is a solid cleansing bar. This cleansing balm bar is handmade from organic plant oils and is infused with Finnish raw honey. Let me tell you this; when I opened the packing I could immediately smell this cleansing bar. It smells delicious! Since it is a solid cleansing bar I find it easiest to use it in the shower, wet the bar and make foam in my hands. It foams very easily and after cleansing with this cleanser my skin feels very clean, without drying out my skin. That might sound a bit cheesy, but sometimes you feel like there is residue on you face after cleansing. This cleanser doesn't do that!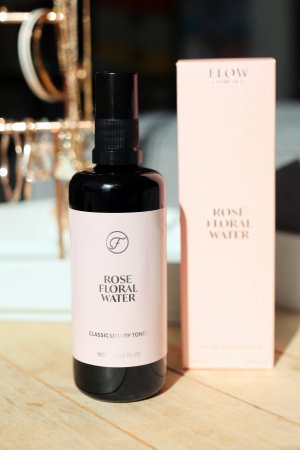 Flow cosmetics Rose water toner
The second step in the Flow Cosmetics minimal makeup routine is the Rose Floral Water. This is a beautiful luxurious organic rose water toner, which you can use as a toner, makeup setting spray or a face mist. The rose ingredient makes this toner very moisturising, which is perfect for my dry, sensitive skin. It says on their website that the rose scent is very relaxing and refreshing. This really is the case! I absolutely love this scent and I have to admit that I spray a couple times extra just for the scent itself. I know there are more rose water toner sprays out there, but I find that this is the best rose toner I've tried so far!
Natural face moisturizer
The last product I want to tell you about is the Bilberry Moisturizer. This is a very versatile, natural face cream for daily use. It's infused with arctic wild bilberry seed oil, lavender water, shea butter and many more beautiful ingredients, which makes this face cream very moisturising. Although it's a very moisturising cream, in the right picture you can see that the texture is actually very lightweight. This natural face moisturiser sinks into your skin very quickly and doesn't make you look greasy at all. I mentioned that this cream is very versatile. You can use it as both a day and/or night cream depending on the serum or oil you use underneath. In my opinion the best moisturiser for dehydrated skin!
I hope that you have enjoyed reading about this beautiful natural cosmetics brand from Finland. The products I've tried from Flow Cosmetics were really nice and I can't wait to try more of their beautiful natural cosmetics products! Have you tried any of their products? Let me know in the comments below!