It's almost the end of November and the shops are already full of Christmas trees, decoration and treats. And I've spotted the first giftsets of the year already! This year I wanted my gift guides to be budget friendly, so if you have a smaller budget some of these gifts could be your main gift. And if you have a bigger budget these gifts could be some stocking filler options. I also split my gift guide up into two separate posts. This one will be featuring drugstore brands and the second one will be full of more higher end brands. This way I hope everyone can find some inspiration for the upcoming Christmas no matter your budget!
The three gifts I chose for this drugstore gift guide edition are quite unintentional one of each 'category'. I chose a makeup gift from No7, a shower themed gift from Soap & Glory and finally a nail treatment gift from Champneys. All these gifts are not from brands you would immediately think of when you live in The Netherlands. That's another reason I chose them! Before I go into the content of these gifts I want to mention that coincidently all these gifts are available in Boots, but this post is not sponsored by them. And yes we finally have Boots in The Netherlands!!
First up is the No7 Stroke of midnight eye duo. Let's talk about the packaging first! I really love this concept, simple but elegant. The gift has a No7 eyeliner and mascara inside, which I think is all you need for Christmas eve. All right and a red lip, but let's talk eye for now. I really think that a really nice winged eyeliner with full and wispy lashes can make your Christmas makeup look. And this duo could be the perfect gift!
My next gift is the One Minute Wonder nail and hands treatment set of Champneys. The brand Champneys is known for their amazing and devine scented body washes and body creams. So I think that with this hand cream and nail file you really can't go wrong. It's packaged in the cutest little pyramid, which you can even use as an ornament to decorate the tree.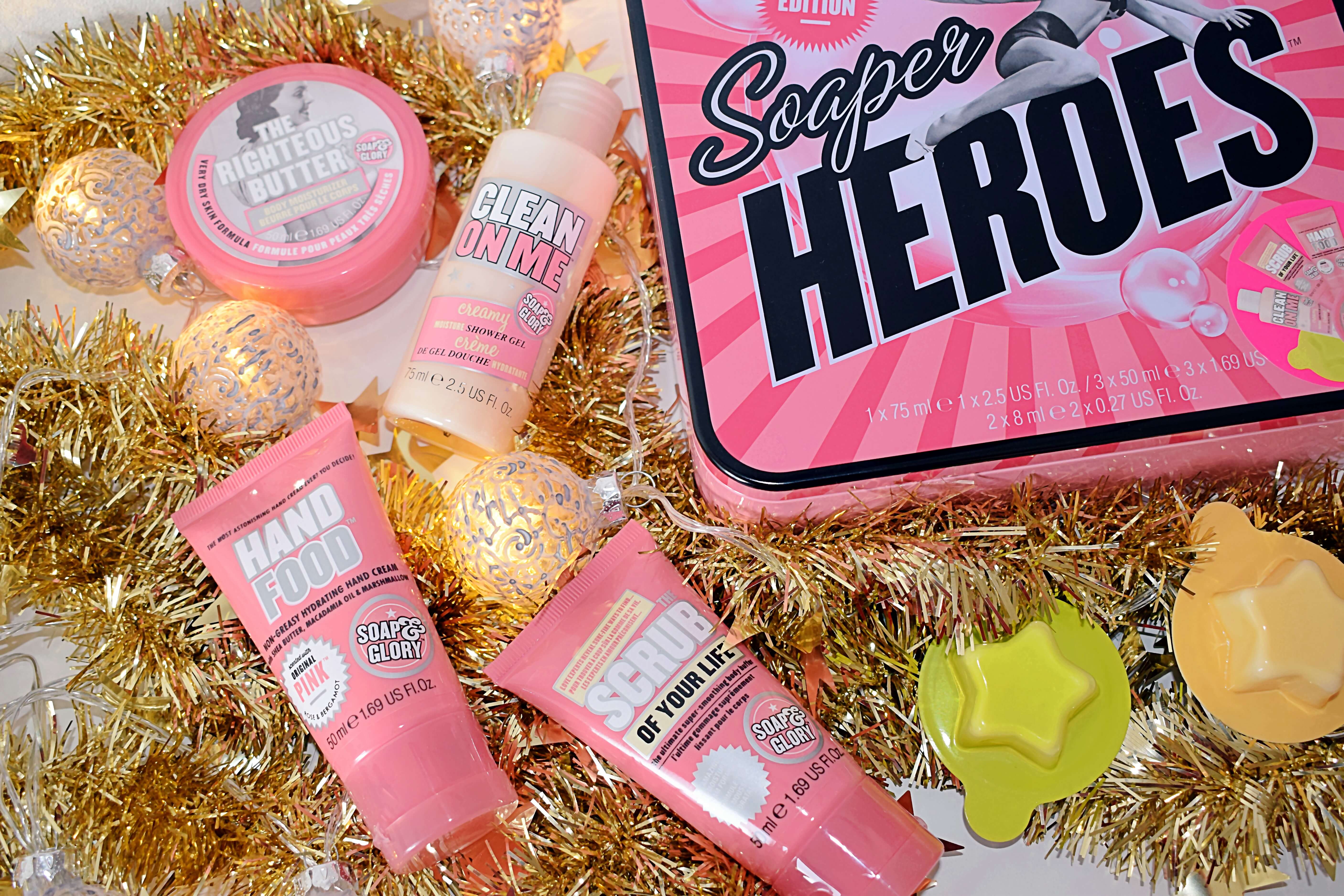 The final gift I had to include is this Soaper Heroes from Soap & Glory. This giftset is at the moment I'm writing this blogpost already sold out on the Dutch Boots website, so here are two other Soap & Glory gift sets that are in stock (at the moment I'm writing this). I really want to start saying 'Thank you so much to Boots NL!' for making Soap & Glory (the gift sets at least, but it's a start!) available in The Netherlands! If you don't know the brand Soap & Glory are know for their bubbly packaging and their really good smelling shower and body products. And they also have makeup! (Keep an eye out for my next brand review, because they are up next). This giftset contains two one-use body washes, body scrub, hand cream, body wash and body butter. It's also packaged in a really nice tin box, which you can reuse.
I hope that you are all as excited for Christmas as I am! And of course got some inspiration from this gift guide! Keep an eye out for the next gift guide where I'll feature more higher end brands!