*This post is sponsored by Starboard boat tours
The Amsterdam Light Festival has been an annual event for the past 7 years. Before I moved to Amsterdam I had never heard of the ALF (Amsterdam Light Festival). The festival is based in the city centre of Amsterdam, which transforms in an outdoor exhibition. The pieces of art are all within a theme. This year the theme of the ALF is "The Medium is the Message". All the pieces of art are based around this general theme. I have to say the artwork is breathtaking and especially when you see them from a Starboard boat!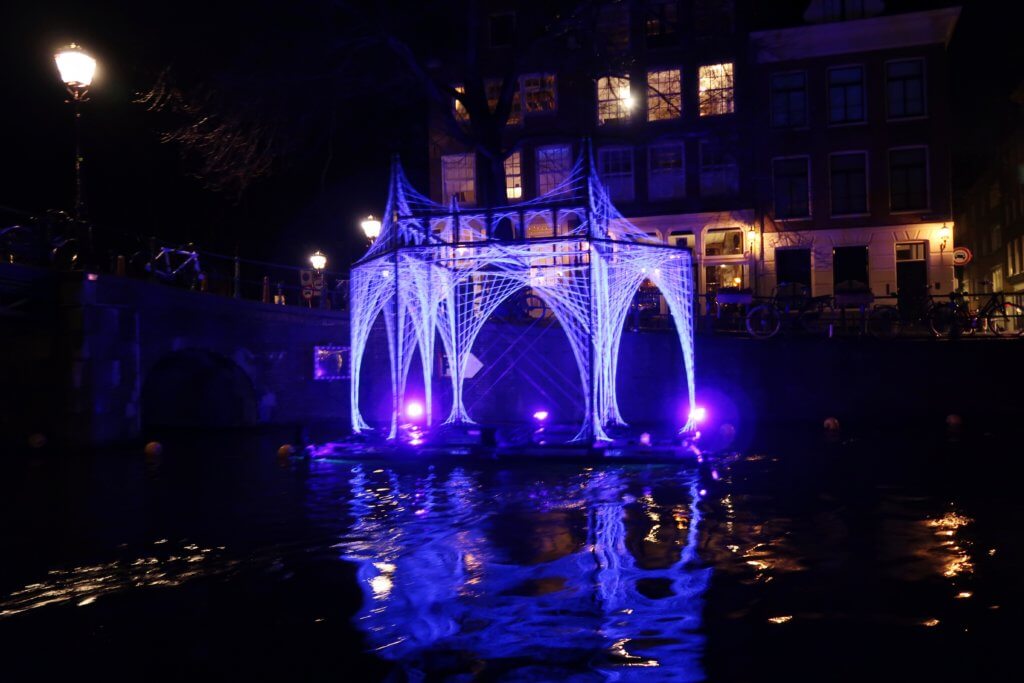 7th edition
As I already mentioned, this year is the 7th edition of the ALF. During December and January the city center of Amsterdam is filled with artwork made of light. Different artists from all over the world created their view of "The Medium is the Message". For instance, there is artwork made out of fridges and washing machines, but also a beautiful spider made out of mini spiders. It was so stunning to see all the pieces of art throughout the city.
Starboard
As you might know Amsterdam is famous for the canals and during the summer canal boat tours are very popular. During the ALF you can book special kind of ALF boat tours. This way, you see the artwork from the water, which is even more special. Starboard kindly invited me to come along with one of their ALF boat tours. I can highly recommend booking an ALF boat tour when you are in Amsterdam, because it really adds to the experience. Don't worry if the weather is not looking the best it could be, because the boat has a detachable roof that covers half of the boat. The ticket for the ALF boat tour includes a glass of mulled wine, which also keeps you warm! And if you want to, you can book a ticket with unlimited drinks! The tour is around 75 minutes, which is more than enough time to enjoy the artwork, drink you glass of mulled wine and enjoy all the lights around the canals.
I would highly recommend going to the ALF and book a boat tour with Starboard! This way you see the artwork form a unique boat perspective while sipping your wine. Don't forget that you can also book a Private Boat in Amsterdam with Starboard! Just check out their website for more information.
Did you go to this years Amsterdam Light Festival? If so, please share your experience in the comments below!