I'm so happy that the pleated skirt trend in 2021 is still a thing. You might have seen this picture pop up on my Instagram already, but I love it so much I thought I'd write a blog post about it. As you might have seen on my Youtube channel in my latest H&M haul I'm very much into the neutrals at the moment. I don't know if that's going to continue to make its way into my closet, but let's experience this style change (or not) together. First of all, I want to talk about this outfit and "How to wear the pleated skirt trend 2021?".
The Pleated Skirt Trend in 2021
So the pleated skirt trend is already a couple of years old and I hope it will stay 'in trend'. It's such an easy piece of clothing to style up or make more casual. You might remember the silver midi pleated skirt I styled with my bright pink blazer during London Fashion Week. That picture on my Instagram still gets a lot of likes and comments about the outfit. This particular long emerald green pleated skirt is such a beautiful piece to style. Let me explain to you how I did it.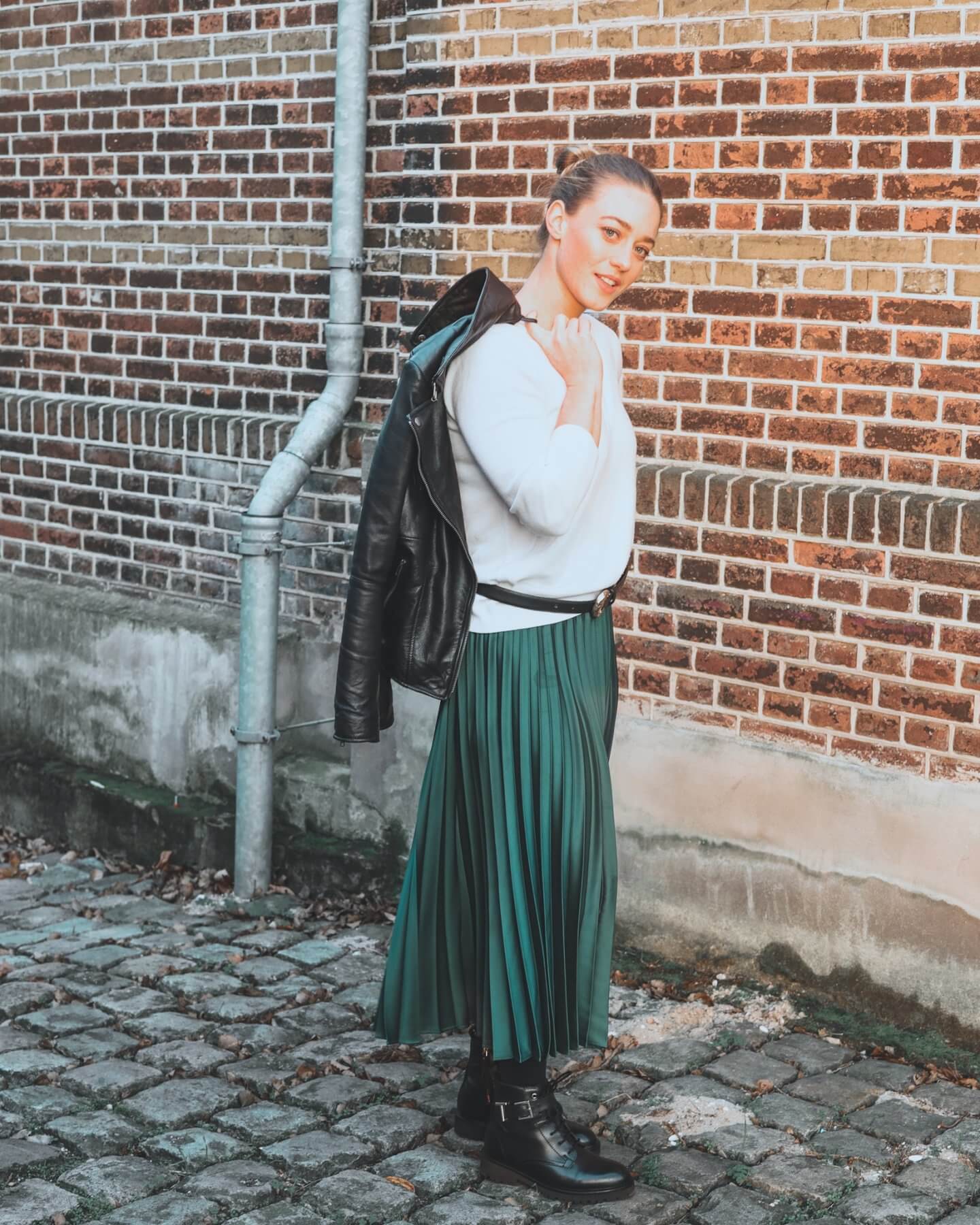 Emerald Green pleated maxi skirt
The emerald green pleated skirt is something that I find very elegant and chic. If you want to dress up this outfit I'd change the white v neck jumper for a basic white blouse. See, that's how easy you can dress up or make this outfit more casual. This particular green pleated skirt is from Zara, but unfortunately no longer available. Therefore I linked a similar skirt from Monki here, so you can shop that one if you like this style of skirt.
White v neck jumper
To make this outfit look more casual I'd add a white v neck jumper. This could be any type of white jumper actually as long as it's a casual jumper. The one I'm wearing in the picture is a – very – old one from Forever21 and you guessed it no longer available. But you can find similar ones at Asos, Benetton, or Vero Moda. You could also style this pleated skirt with a black turtle neck jumper as I did in the how-to style a black turtle neck jumper post.
Ted baker biker boots
These Ted Baker biker boots really give this outfit a casual vibe. Again if you want to dress up this outfit, try to combine it with heels or heeled boots. I really like these Ted Baker biker boots to make a chic appearing outfit look more casual and this is also totally in trend at the moment. And another bonus these boots are so comfy to walk in.
Mango belt
Another accessory you want to add to really complete this outfit is a belt. I chose to add a Mango belt, but you can add any kind of belt. I like the ones that are not the really tight waist belts with a beautifully decorated buckle. I've linked a similar one right here, which is also from Mango.
Asos black leather biker jacket
And of course what is a pleated skirt trend in 2021 outfit, without a leather jacket. You know I'm obsessed with leather jackets and try to sneak them in almost every outfit post I do. This is an old Asos black leather biker jacket, which you've seen loads here on my blog. Let me know if you are also obsessed with leather jackets!
I hope you loved reading about how to wear the pleated skirt trend in 2021. If you like this and would like more of these how-to-style kinds of posts, let me know in the comments below. Which item would you like to style me next? In the meantime maybe you'd like to read about How to style a MAC.