Every year I write a blog post about the month for breast cancer awareness, also called pink October. October is breast cancer awareness month and many companies present products you can buy to support research towards breast cancer. In my previous blog posts, I focussed on breast cancer awareness merchandise, creating awareness for breast cancer, and what you can do during October breast cancer awareness month. This year I decided that it's nice to give this themed blog post a little twist. If you want to read more about products you can purchase don't forget to check out the Best 5 ways to raise awareness for breast cancer right NOW! blog post and the Breast Cancer Awareness Month blog post from the previous years.
Breast Cancer awareness facts
To give you a little refresh on the stats about 1 out of 7 women is or will be diagnosed with breast cancer. In 2020 over 13200 women were diagnosed with this disease. This is a little bit less compared to 2019 due to the covid. It doesn't mean that fewer women get breast cancer, because the drop in diagnosis – according to pink ribbon – is likely due to delayed visits to a GP and putting some health care procedures on hold. Breast cancer is a form of cancer that is in 20% of the cases affects multiple family members. And in 5 – 10 % of the cases, there is actually a genetic predisposition to breast cancer. For more statistics and explanations about breast cancer, you can go to the Dutch Pink Ribbon website or the UK Pink Ribbon website.
Month for breast cancer awareness
It is super important to raise awareness for breast cancer during the breast cancer awareness months each year. Big companies like the Estee Lauder Companies always have several brands that have special Pink Ribbon products. There's also a bracelet from the Dutch Pink Ribbon Foundation you can purchase, where half of the revenue will go to breast cancer research. Mango also launches a couple of products each year in collaboration with the Fero Foundation. This year they have a couple of beautiful t-shirts with quotes. So as you can see there are many ways you can help to increase awareness of breast cancer.
Of course, there's always an option to donate or wear the breast cancer awareness ribbon to create more awareness too. October breast cancer month is not only a national initiative, but I believe this initiative is widely spread across the world. And there's also a breast cancer awareness day, which is the third Friday of October every single year. So I hope this answers the question of when is cancer awareness month? And what to do for breast cancer awareness month?
Breast cancer survivors
This year – as I already mentioned – I wanted to do something different for this annual blog post. And focus more on products you can use as a breast cancer survivor. Of course, I am aware that I'm not a specialist or breast cancer survivor myself! But I came across the following products and thought they might be very helpful if you had breast surgery!
Hunkemoller Prosthesis Bra
This year Hunkemoller developed a special bra for pink ribbon awareness month. This bra is specially made for women who had mastectomy surgery. The bra doesn't have any wiring or padding, which makes them very comfortable to wear. And they have a special pouch for your breast prosthesis. Besides the fact how comfortable they are – I find them very comfortable myself – they also look very beautiful. There are two different styles – Erica and Morgan – and both of them come in two different colors. I think it's super important that Hunkemoller developed these bra's and hopefully, they will stay in their collection!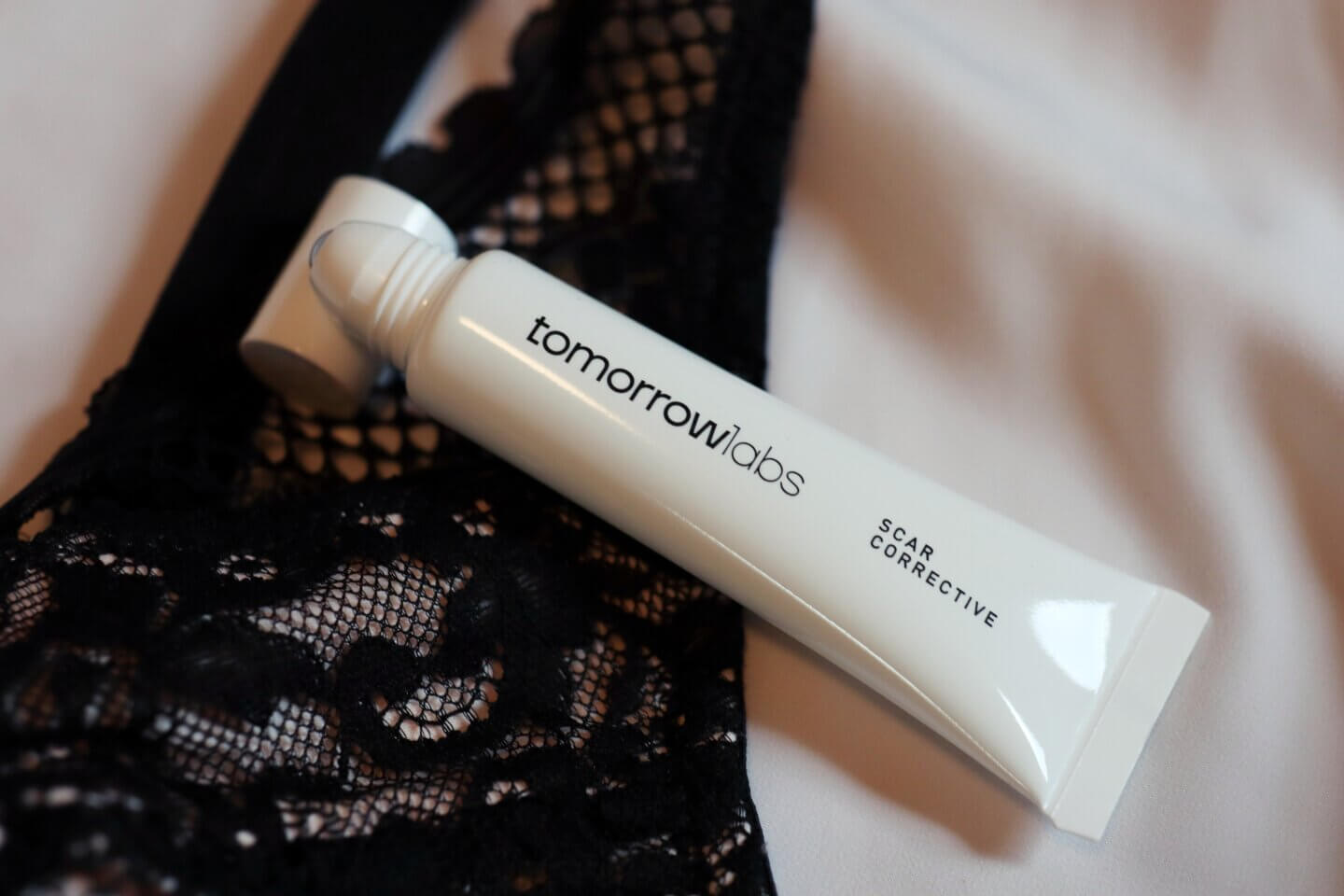 Tomorrowlabs Scar Corrective
From what I've been reading, taking care of post-surgery scars is very important. A widely known oil that helps to reduce scars is the original bio-oil, which I talked about in the Bio-oil is the secret to solve dry skin problems! blog post. Tomorrowlabs recently launched a new product, which is the Scar Corrective Serum. This is a silicone-based gel that you apply to your scars during the scar maturation period. I've also heard people use it on C-section scars or even acne scarring. And you can use it on both fresh and old scars! It supports the healing process, reduces itching and pain, and helps to make the scars less hard and noticeable. All the Tomorrowlabs products are based upon modern medical research.
I hope you loved reading about breast cancer awareness month 2021 and some of the things you can do to help create awareness. Let me know your product recommendations or reviews in the comments below!