Weleda just released their 5 summer essentials, which I think are get you through quarantine. They make you feel like you're on holiday and not stuck at home. Last winter Weleda also released their 5 winter essentials, which I thought included some awesome products. That's why I'm very excited to share these 5 summer essentials with you. And just like last year there's a limited edition Weleda body wash!
Weleda summer
Before I'm going to explain which products are included I would like to tell you a little bit more about Weleda. As you might know I was a proud Weleda ambassador during 2019 and I got to try a lot of their products. This way I really got to know the brand and their mission, which is to cultivate beauty. If you are not familiar with the brand, the products are produced in the most sustainable way and contain 100% natural ingredients. In the Netherlands Weleda is available in for example Holland and Barrett. I can imagine you're now dying to know, which products are included in the summer essentials kit.
Your summer essentials kit
So what's included in the summer essentials kit? First of all one of my favourite natural deodorants the Sea Buckthorn roll-on Deodorant. Since using this deodorant I don't have irritation after shaving my armpits. And – maybe a bit TMI – but I do sweat a lot. Especially when I exercise and during the summer. I only have to apply this deodorant once in the morning and I'm good to go. How about natural deodorants don't work?! This one really does the job and they have them in multiple scents!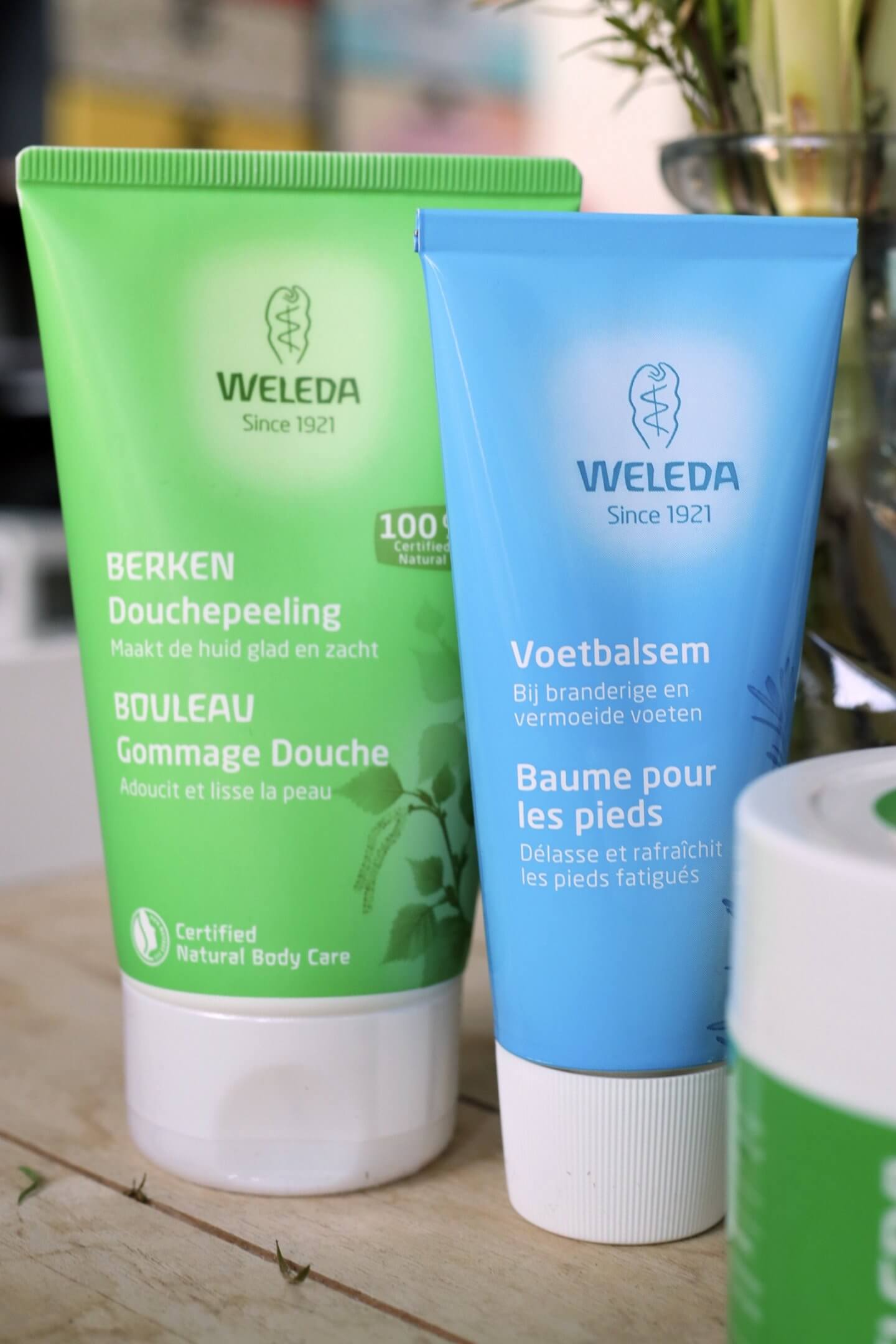 The next product in the summer essentials kit is the Birch Body Scrub. I love a good body scrub and this one is absolutely amazing. I'm going to sound like a broken record by the time this blogpost ends, but the scent is amazing! If you have a sensitive skin it don't let the scrub part scare you off. I feel like the scrub particles in this one are very gentle and the birch makes your skin very soft!
Of course we should not forget to pamper the feet in the summer, hence why this Foot Balm is the fourth product in the kit. This foot balm is amazing if you went hiking or strolling through the city all day. Massage your feet with this balm in the evening and your feet feel like new the next morning! It absorbs very quickly into the skin, so you don't have to worry about sticky feet.
The fourth product in the summer essentials kit is the trusty Weleda Skin Food Body Butter. This one is a favourite of many people and just an amazing product. In my opinion it's an awesome summer essential, because this one is so good for moisturising your skin after a day on the beach or balcony at the moment. In the summer it is really important to keep your skin moisturised and this product really does the job!
And last but not least the limited edition Feel Good Shower Gel. This is the fifth Weleda summer essential and it's a good one. This shower gel smells – yes I warned you – so amazing! It's smells really refreshing, because of the ingredients citrus and ginger. This is the perfect shower gel to wind down in the evening or slowly wake up in the morning when taking a shower.
These were the 5 Weleda summer essentials. I hope you loved reading about them and let me know which Weleda product is your favourite!