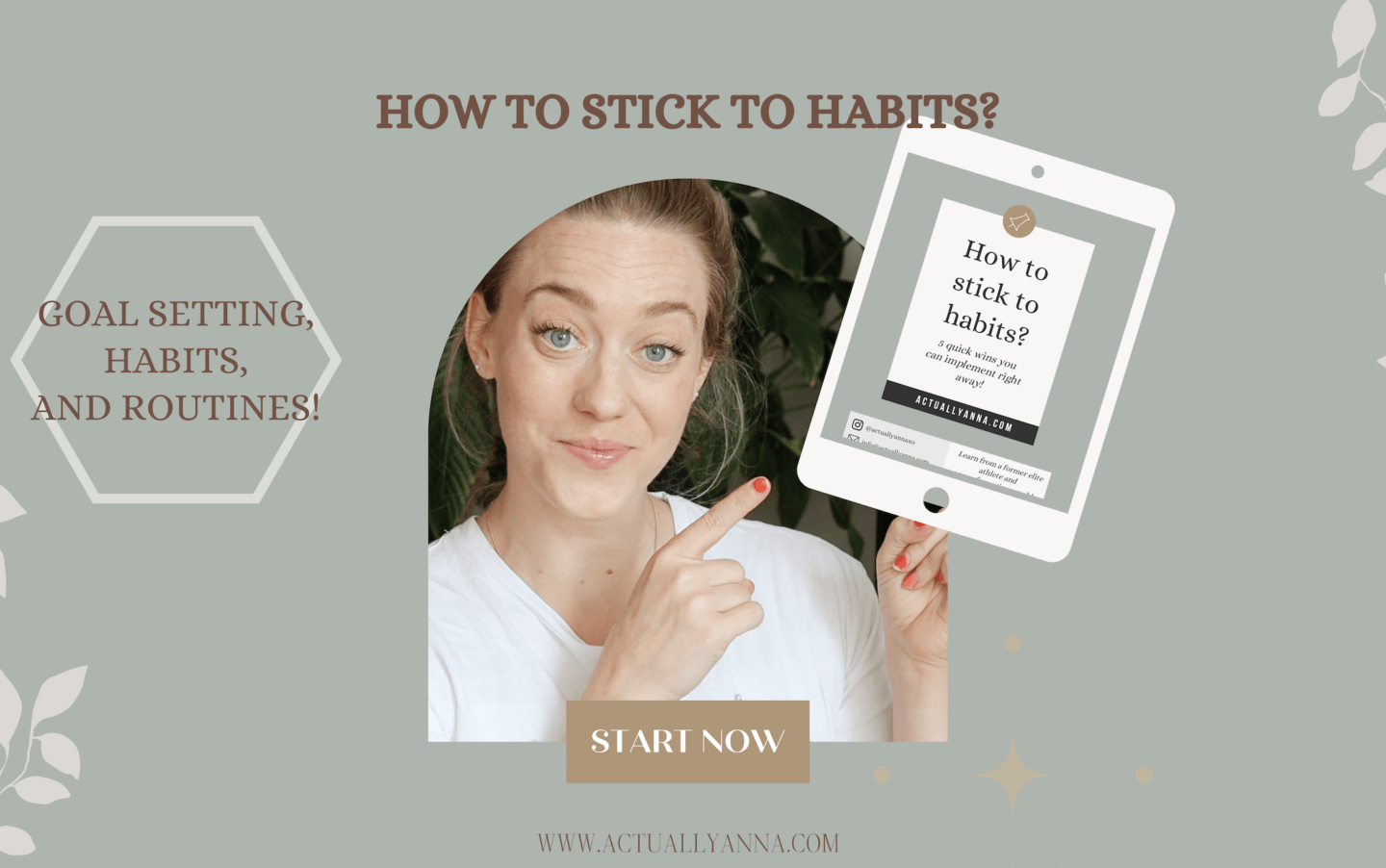 During my elite career goal setting, different types of habits, and daily routines were a big theme. But also during my university years and even nowadays during my time as a working professional, it's becoming more and more important. What I noticed is that trying to combine a full-time day job with my own company requires me to create routines and habits. Not only that but being able to set realistic goals is something that keeps me motivated. It also prevents me from getting demotivated. Over the last couple of years, I've noticed how much I've learned through my years of being an elite athlete. And today I'd like to tell you more about it. As well as share some of the knowledge with you in my free worksheet.
In my worksheet, I'll share some practical tips on goal setting, routines, and habits. But before we go into this, why is it so important to have these things in place. Well, first of all, it can be very demotivating if you set the bar too high for yourself, and on the other hand, it's not satisfying accomplishing goals that are too easy. Therefore it is very important that your goals are just right. Another thing to keep in mind is that it's super important to set goals that you have (full) control over. There's nothing more frustrating than setting a goal that is out of your hands in terms of control.
Implementing new habits or routines is – in my opinion – the most important thing that there are there to help you. It has to be something you do for yourself, rather than for someone else. Those habits and routines are the ones that are most likely to stick. So there are many different types of habits and routines I'm going to talk about in a second. But this is something I want to emphasize and is of course also something that is true for setting goals. Intrinsic motivation is super important and really determines if you're going to succeed or not.
What are different types of habits?
Before we dive into what I've learned I want to tell you something about different types of habits. There are productivity habits, which you put in place to be more productive. This could be a habit of always putting things away in the dishwasher if you used something. But it could also be a morning routine to get yourself in this productive mindset. There are healthy eating habits to put in place to help you eat in a more healthy way and there are positive habits to put you in a more positive mindset. Like I do every morning with a 10-minute meditation and 10-minute yoga session.
So as you can see – or read – habits are there for a specific purpose. But bear in mind every new habit needs time to implement. You might need a bit of practice and don't forget they are all behavior changes, so they take time. Just start today, make a list of things you'd like to accomplish, and go from there. Always make sure to take your present moment as your starting point and go from there.
Hope you loved reading about habits and don't forget to download the FREE worksheet!