The winter season is almost around the corner, which means that the water is getting colder and colder. I personally like to treat my skin a little bit more during the colder months, because my skin needs it. Since I'm a Weleda Ambassador I received the Weleda winter favourites, which I'd like to show you. Maybe you'll get some inspiration for new products after reading this post? And if you want to find out which one is my winter favourite? Keep on reading!
Calendula Weather Protection Cream
The Calendula Weather Protection Cream will protect your skin during the winter months. Although this is a product for babies to protect their skin against the cold and windy weather, as an adult you can also use this one. Need to go to your son or daughter's football match? Apply a bit of this cream on you face and it will be protected against the cold weather. And if you have dry skin I think this cream will be one of the best face moisturizers!
Skin Food Body Butter
You've might heard about the new range, called skin food, Weleda launched. If you have dry skin this body butter will be your best friend. Bear in mind that it is a body butter, so it needs some time to sink into your skin. What I mean with that is basically if you don't like to feel sticky after applying it, maybe you can try one of their body oils. They are actually massage oils, but you can also use them as a moisturiser! So if you don't mind you skin being sticky I think this body butter will be the best moisturizer for dry skin!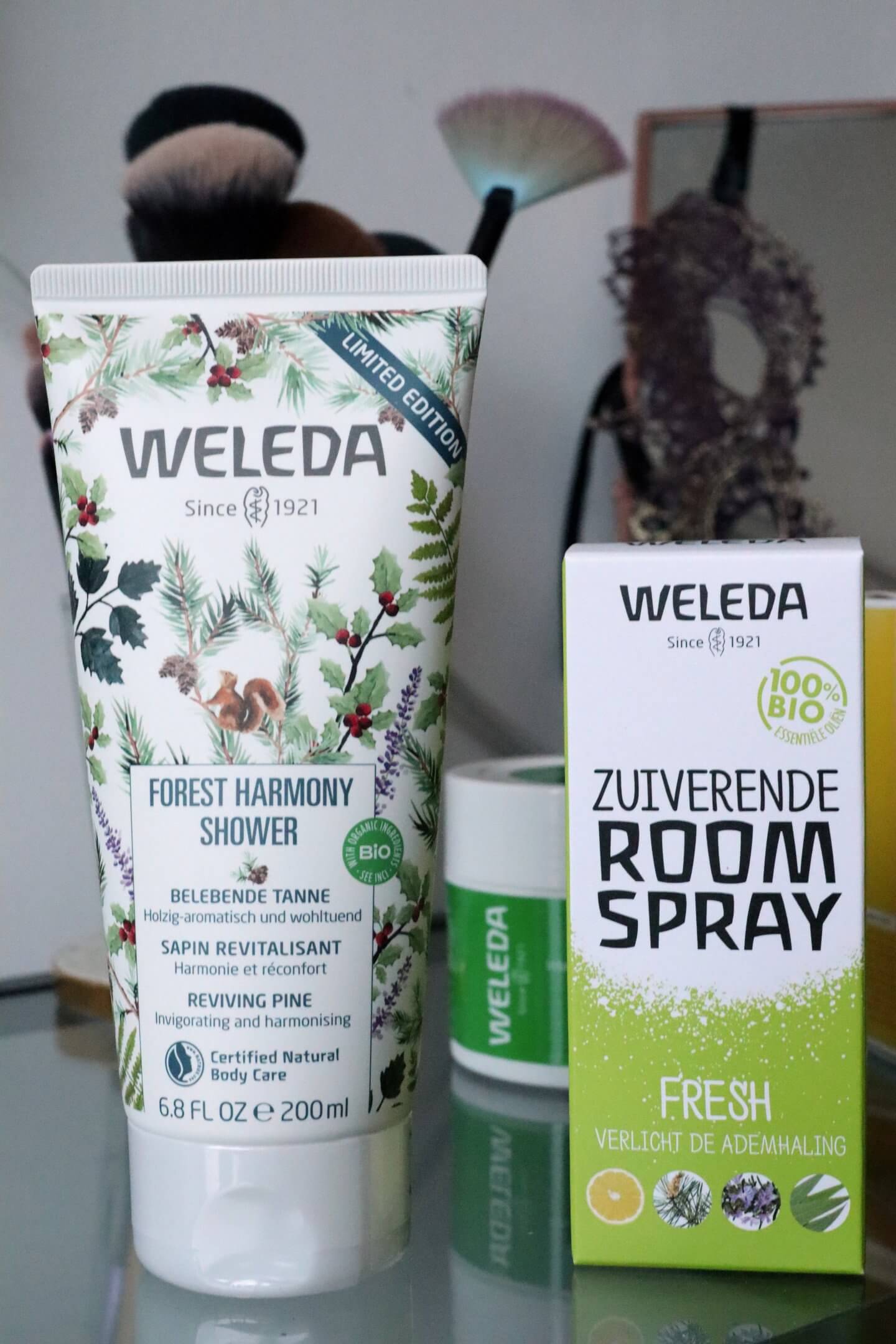 Room Spray Fresh
Another very useful product is the room spray fresh, because this room spray doesn't only smell nice. It also helps to open up your respiratory system when you feel a bit blocked up. In my case this is usually almost the entire winter, so this product will come in handy! But if you think that this is my ultimate favourite… you're wrong! Although this is definitely among my winter favourites!
Limited Edition – Forest Harmony Shower Gel
This new limited edition shower gel is absolutely amazing. This summer they already brought out a limited edition shower gel, which I adored. Well not only me my boyfriend was a big fan too. So we had high expectations when this shower gel launched. And I have to say this one is also very very nice and an absolute must during the winter months.
Did you love reading about these winter favourites? Let me know in the comments below which one is your favourite! Don't forget to check out my post about the Weleda Arnica line and different types of Weleda shower gels! And if you don't only want to smell, but also see some beautiful flowers during the winter time, check out the Wintergarden Experience in Baarn.